Rebrand: Rolling the Dice
Every once in a while we end up with a concept design that is completely dependent on stills and video from the promo shoot. These tend to make us a little nervous, because if the idea in our head doesn't work as planned…we're in big trouble!
The good news is that our series, Rebrand, turned out INCREDIBLE. This is one of those videos that people kept asking who produced it for us. Many people at Rush Creek don't realize that we make almost everything they see on the screens ourselves! This video shoot was fun (and super messy). Here's how we created the magic.
---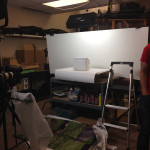 This entire video was shot in the prop room at our Green Oaks campus. We painted a white back drop and mounted with clamp stands on our work table. Knowing that we needed the "ground" to look white, we opted to go with a roll of butcher paper that we could easily remove and replace after each item was painted. We had spray painted every item used in the video white, but did not have any back-ups in case things went wrong. This made the team a little anxious, as we didn't have time for delays in the process!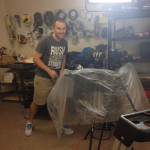 Trey, however, was not concerned at all. We had tested methods of painting the props earlier in the week, but most of our experiments didn't work very well for the type of shot we wanted to capture. Trey was convinced that an "out of the box" method would get us what we needed.  He had previously painted his whole house with styrofoam cups and splatter paint anyway…so he had all the necessary experience.
---
Now it was go time, and Meghan was tasked with pouring the paint onto each item from above. We were very fortunate because we only had to do one take for each item. Each prop looked awesome before it was splattered and even better afterwards.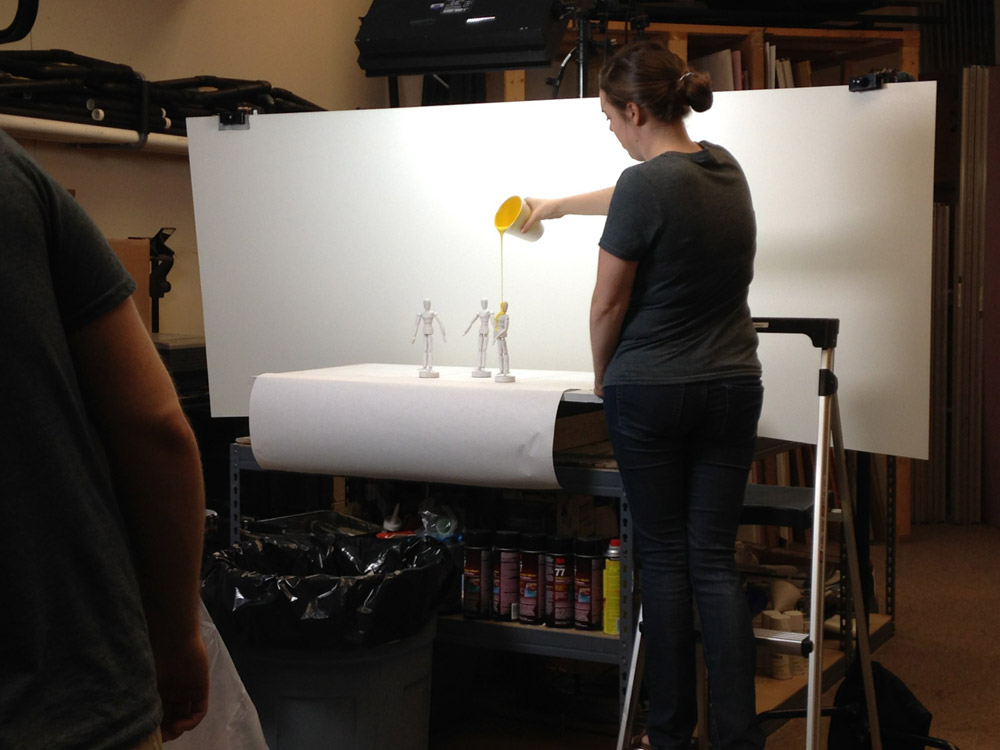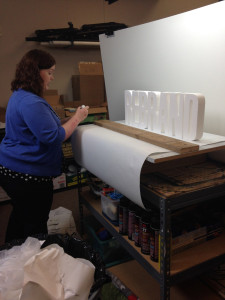 For the final logo shot, we had purchased foam letters online. Johanna lined everything up and then measured and mounted styrofoam cups to a 2×4 for the final pour. A little ghetto you say? That's probably true, but it was the only way we could think to get an even pour over each letter at the same time. We had our fingers crossed that this process would work. The letters were a little expensive and we only had one back up pair!
The result, however, was AMAZING.
Make sure to check out the above video to see the whole thing in action!