Exhibit 3: History
Check out the "History" exhibit from our On The Road tour here!
The Exhibits
We've never created an interactive museum before, but what a fun project "On the Road" ended up being. Before you read on to find out more about our "Power" exhibit, watch this video to get a quick glimpse of our people interacting with the displays at our first event!
The Marquee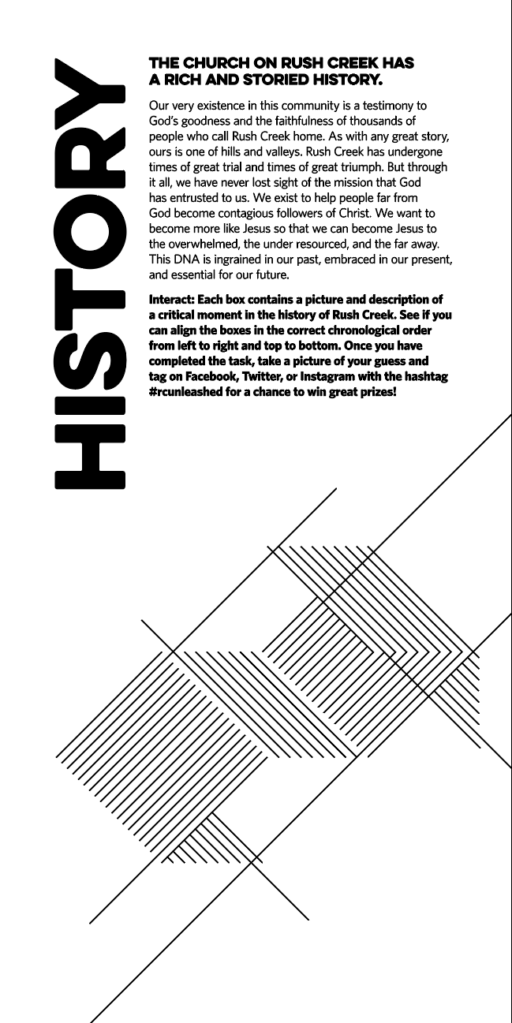 The Build
Ikea to the rescue! This was one of the easier exhibits to assemble (once we figured out the stick figure instructions on the Ikea printout). We purchased white boxes from Uline that would fit in snugly (but still easy to pull out) and printed icons from the history portion of our Unleashed book for the front and tops of each one. We also created a backing from gator board and wall paper so that the shelf would still look nice when empty. The backer also kept the boxes from getting pushed all the way through as people took the history challenge.
The Interaction
Each box had a picture and sentence that described an event in Rush Creek's History. Teams had 90 seconds to try and get them in the right order on the bookshelf. This was a fun and easy way to help people learn more about the history of Rush Creek. Many of our newer members and attenders have no idea the highs and lows of our story…and how God has been so good to us all along the way!