Exhibit 4: Spiritually Significant Moment
Check out the "Spiritually Significant Moment" exhibit from our On The Road tour here!
They Exhibits
We've never created an interactive museum before, but what a fun project "On the Road" ended up being. Before you read on to find out more about our "Power" exhibit, watch this video to get a quick glimpse of our people interacting with the displays at our first event!
The Signage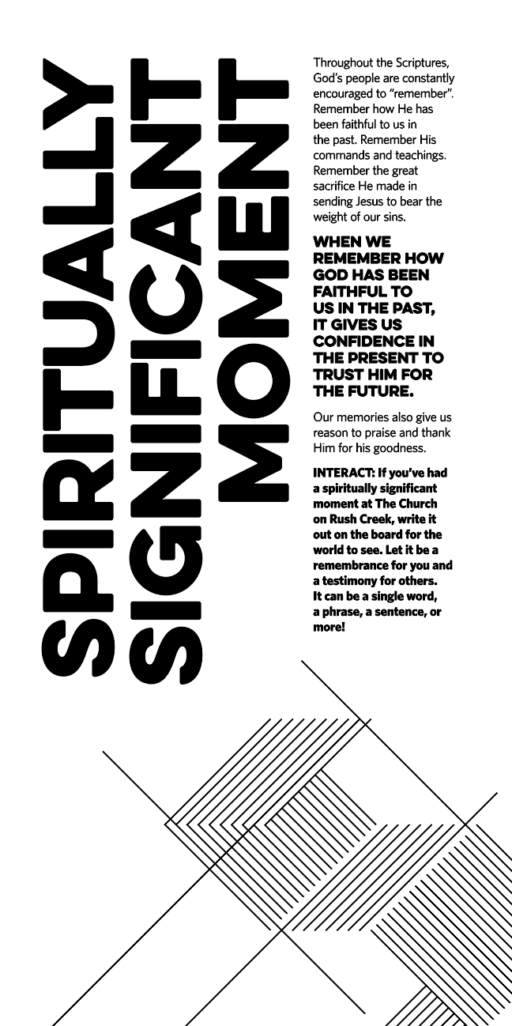 The Build
Essentially, we wanted this box to be a two sided white board illuminated from the inside. We build a wood frame and mounted it on a steel pipe infrastructre with casters. We also wired this to have an on off switch on the bottom and extra power outlets. The front and back are made with two 4×8 pieces of frosted plexiglass. We mounted t9 ceiling fixtures on the inside which worked great…but ended up being a little brighter than planned. This thing could illuminate an entire room!
The Interaction
This exhibit was pretty straightforward. We encouraged our people to write out a spiritual significant moment from their time at Rush Creek. It was fun to read these every night after the event…and amazing to see the things that God has been doing in the lives of so many at CRC.