Exhibit 5: People/RCC Volunteer Highlight
Check out the "Power" exhibit from our On The Road tour here. A special thanks to our RCC team member Javier Garcia for taking ownership of this one and delivering an incredible final product!
The Exhibits
We've never created an interactive museum before, but what a fun project "On the Road" ended up being. Before you read on to find out more about our "Power" exhibit, watch this video to get a quick glimpse of our people interacting with the displays at our first event!
The Signage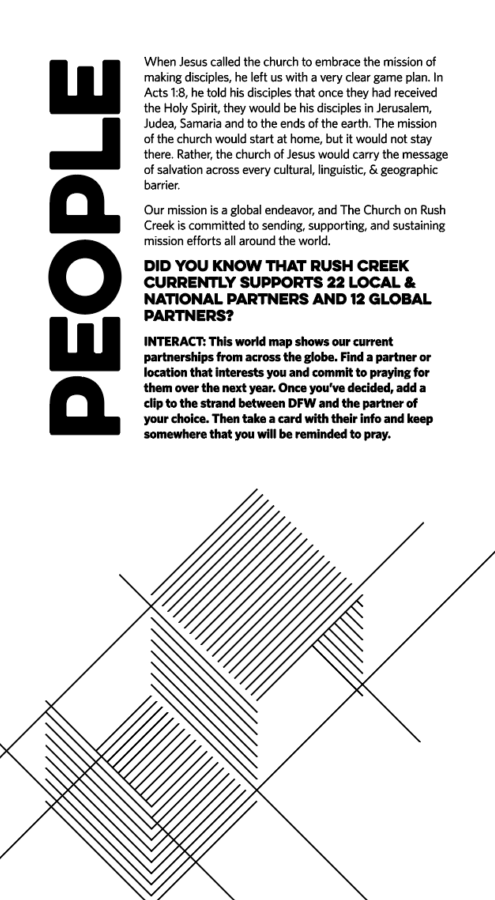 The Build
We purchased some charred wood paneling from Home Depot and created a slat wall on a metal pipe frame. We added some top lighting from Ikea, and then went to work old school style….using the always handy overhead projector. Javier build the frame, and then traced and painted the map for us. Once we had it back on campus, we drilled holes to mark our partnership locations and used parachute cable from hobby lobby to connect all of our eye hooks.
The Interaction
Every eye hook on the board represents one of Rush Creek's current mission partnerships. We are committed to providing resources, people, and prayer to all of our partners around the globe. During the "On the Road" events, we encouraged our people to choose one particular partnership to get more involved with over the next year. Once they chose a location, we asked them to add a pin to the string between DFW and their mission partner. They then took a info card with specific prayer requests for that region to keep in their Bibles, wallets, or journals.